We don't just do the "small jobs" often associated with handymen companies. We also offer remodeling services.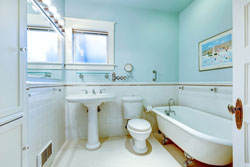 We started business as a handyman company but demand for bathroom remodels has been so great that this has become a major part of our business. Our goal is to provide a pleasant turnkey experience which means we handle everything from the initial consultation, design and materials choices, financing, permit and a trouble-free installation experience.
We provide a set fixed price so there are no surprises and all you have to do is enjoy you new bathroom. Rather than have an expensive showroom that adds cost to your project our design experts come to your home ready to discuss your needs and offer design and material options that will fit your budget and result in your dream bathroom.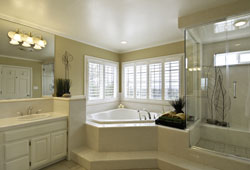 As a licensed contractor since 1980 with hundreds of homes completed, we can provide a bathroom that you will enjoy for years and love showing to family and friends.
Give us a call, and we can discuss your project - and yes, we provide free estimates for remodeling jobs.
---
Interior Remodeling Services
Bathroom Remodels
Door & Window Installations
Attic and Basement Finishing
Interior Wall Partitions/ Removals
Garage Storage/ Finishing
Interior Painting
Exterior Home Improvements
Deck Installations
Arbors, Trellises, and Pergolas
Exterior Lighting
Garden Sheds
Exterior Painting